I did it!!
After 3 years of saying I was going to do it, I did it!! I
finally
made a slipcover for my hideously ugly old recliner!!
I found this wonderful fabric on etsy...22 yards for an awesome price!! Heavy quality.....fully lined!!!!! Needless to say, you will see this fabric throughout my home!! I am getting it all used up though!!
Isn't it lovely??? All my favorite colors are here!
Here you can see the double ruffle...I made it so it can still recline...yay!!
More ruffle and piping detail.......
Close-up of the piping....custom piping I might add!! ;)
My sweet little fall pillow from Joann's Fabric and Crafts.....
Here is one of the two matching pillows I made for my sofa......
Auggie say's "woof, now can I please go back to sleep??"
I hope you are having a fabulous day!! Thanks for visiting me!!
Sharing at........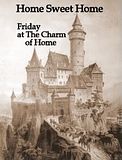 is sponsored by
Appliances Online
.
"
My entry into Make it Pretty Monday's link party is sponsored by Appliances Online.