Hi Everyone!!
I am sooo excited and thrilled to show you the wonderful Travel Mug I received from The Heatherly Loves Coffee Mug Swap!
My mug is from Misty at
Mimis Meals and Deals!
Misty did an incredible job finding just the right mug to suit my personality! It is totally me...from the colors........ to the flowers...........to the most beautiful saying.......
Plant a Seed of Friendship; Reap a Bouquet of Happiness!!
It is just so cottage-y and perfect! Don't you just love it??
I know my coffee is going to taste extra yummy in this mug!! It is all
Porcelain, with a silicone top and sleeve!
Very
nice!
Plus, look at how the pattern resembles my vintage feedsack doll quilt!!
I want to thank Misty from the bottom of my heart! I truly love it!!
Ok, now when is the next mug swap?? ;)
Actually, I believe Heather will be hosting another lovely Mug Swap, this time for Christmas!!! Be sure to visit her lovely blog for all the latest Mug Swap updates!!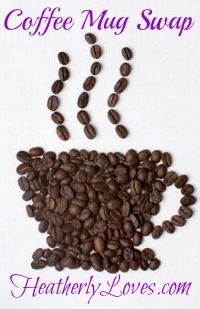 Now if you'll excuse me.......
I'm going to go make myself a cup of coffee!!!!!!